Knowing your ring size accurately is essential to finding the perfect fit for your finger. Whether you're shopping online or in-store, it's important to take the guesswork out of selecting a ring size.
In this article, we will provide you with some tips and tricks on how to determine your exact ring size without any hassle. From using measuring tools like a ruler or string to visiting professional jewelers – you can find the right fit that suits you best!
Measure Your Finger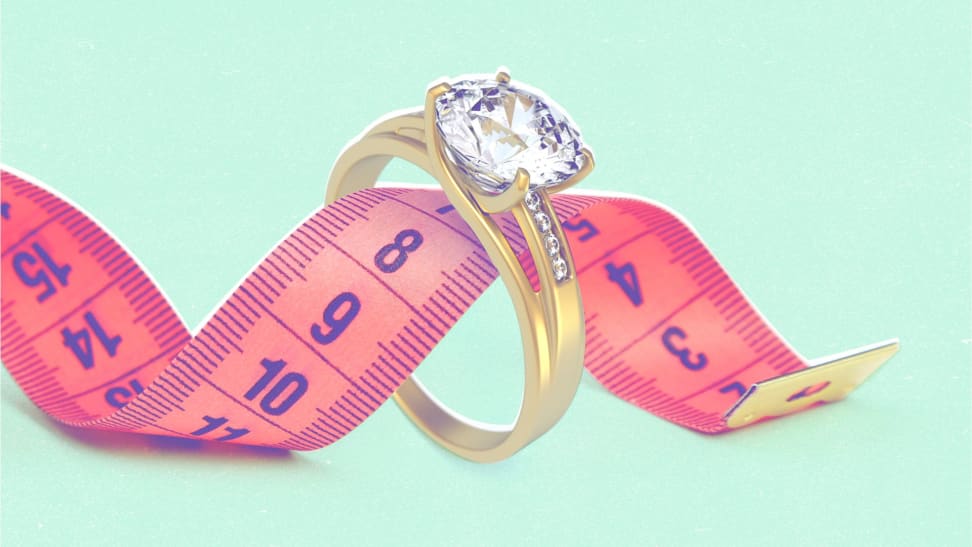 If you want to make sure your ring fits perfectly, measuring your finger is the best way forward. An accurate measurement can only be achieved with a flexible tape measure or a ruler and string.
For an even more precise fit, use a professional plastic sizer from jewelry stores or online retailers. Start by wrapping the tape measure around your finger, below the knuckle but above the joint closest to your hand – this will give you an inner circumference of the finger which will then help you determine its size in millimeters (mm).
Alternatively, if using a string: wrap it around your chosen digit and mark where it overlaps before laying it alongside a ruler for easy reading. Use either method to note down both length and width measurements for accurate sizing.
Compare to a Chart or Ruler
When it comes to accurately determining your ring size, the best way is to compare it to a chart or ruler. A ring size chart provides an easy-to-read guide of all possible sizes that can help you find the right fit for your finger.
Rulers are also helpful as they allow you to measure in millimeters and inches so that you can determine the perfect circumference for your finger. Both a chart and ruler provide precise measurements that can be used when shopping for rings online or in-store.
Additionally, most jewelry stores have tools available such as mandrels or sizers which are great options if you don't have access to either of these items at home. No matter what tool you use, making sure that your ring fits correctly will ensure years of comfort and enjoyment!
Test Fit with a Ring Sizer Tool
When it comes to determining your ring size accurately, a ring sizer tool is one of the most reliable methods. This simple and effective tool can provide you with precise measurements to ensure that the perfect fit for your finger is easily achieved.
Ring sizers come in many different sizes so finding one that fits your finger perfectly should not be difficult at all. The main advantage of using this type of tool is its accuracy – it takes into account factors such as width and circumference which are often overlooked when measuring by hand.
Additionally, because rings may vary slightly between brands, it's important to use a ring sizer to make sure you get exactly what you want! With a few easy steps, you can have an accurate measurement for any style or shape of the ring right at home; no need for visits to jewelry stores or trips back and forth from online retailers! So if youre looking for an efficient way to find out your exact size – look no further than testing fit with a ring sizer tool!
Get Professionally Measured
When it comes to finding the perfect fit for a ring, nothing beats getting professionally measured. It not only ensures that your finger is measured accurately, but that you get exactly what you want out of the sizing process.
Professional jewelers and goldsmiths have access to specialized tools such as mandrels and digital sizers which guarantee an exact fit for your desired ring size. They also provide expert advice on how best to measure your fingers, taking into account factors like knuckle size or thickness of cloth gloves in wintertime.
Getting professionally measured when shopping for rings can save precious time and money while guaranteeing a comfortable fit each time you slip it on!
Conclusion
Engagement rings are a special symbol of love and commitment, and it is essential to make sure that you get the right size when choosing one. If you're about to buy an engagement ring, there are several simple ways to accurately determine your ring size before making a purchase.
From measuring your existing rings or using printable sizing guides to visiting a jeweler for help, these methods will ensure that the ring fits perfectly on your finger—a great start for any lasting relationship!